A great new addition to the euphonium repertory –
full details here!
Ideal for those Easter concerts and services –
full details here!


Available at last!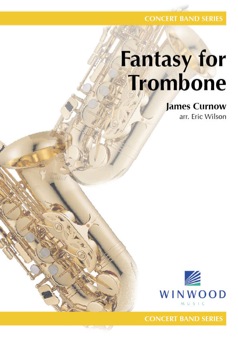 James Curnow's popular
Fantasy for Trombone
is now available in a version with Concert Band accompaniment –
click for details!












New Titles for Euphonium players...

Click on the images for more details



Recent additions for trumpet (or cornet) players...

Click on the image for more details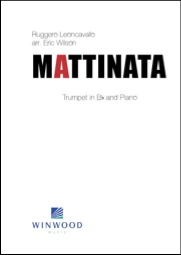 There's something about Italian vocal music that is well-suited to brass instruments; whether it is vibrant bravura writing or a soaring cantilena. Ruggero Leoncavallo's
Mattinata
(Morning or Morning Serenade, to be more poetic) certainly soars and captures the sparkle of a bright new day. The lyrics (by the composer himself) are a greeting from a lover to his partner urging her to awaken and come to him – sunlight is missing without her! This arrangement for trumpet provides players with something in D major that isn't a Baroque trumpet tune and features lyrical yet agile lines.

Like many composers, Jules Massenet was happy to make several uses of the same music – especially a tune as good as this!
Élégie
began life as a piano piece before being incorporated into incidental music for a play (
Les Érinnyes
) where it's known as 'Invocation', and later a version for cello and orchestra. I don't think, then, that Massenet would mind the present arrangement for trumpet and piano!


It's a beautiful melancholic melody and gives trumpet players the opportunity to show their lyrical side. The notes themselves are not hard to master, but it does require a great deal of refinement and control.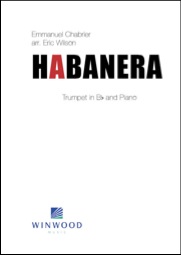 This is something of a companion piece to Eric Wilson's arrangement of
Tango
by the Spanish composer Isaac Albeniz. This 'Spanish' music, however, was composed by a Frenchman! Chabrier was not to the only composer from France to fall under the spell of its neighbour – Ravel was another, with Bizet's
Carmen
an obvious trailblazer. Following a trip to Spain in 1882 Chabrier's España met with great success and he followed it up in 1885 with this
Habanera
; originally for piano and later orchestrated by Chabrier himself.


It's a neatly formed piece, occasionally surprising in its dissonance and dynamic contrasts. Players should approach the music with a sultry, perhaps even romantic, feel and a degree of panache! The present arrangement for trumpet and piano incorporates elements of Chabrier's orchestral version and allows the soloist at least some rest!

A few new pieces to mention!
Our continuing relationship with Oxford University Press means that we are now able to offer two Christmas favourites by John Rutter for brass quintet and a 'bubbly' new fanfare by Michael Berkeley.

John Rutter's arrangements of 'We wish you a Merry Christmas' and 'Ding Dong! Merrily on High' for brass quintet (with optional percussion) have been out of print and only available on special order for a while, so we are delighted to offer them for sale – and a fair bit cheaper, too!

Michael Berkeley's 'Champagne Fanfare' takes a few notes from Mozart's famous 'Champagne Aria' as it's starting point and is available for either standard brass quintet or a more orchestral section (3 trumpets, 2 horns, 3 trombones, and tuba). An optional cut allows you two different duration to suit your needs.

These publications come with alternative parts for brass band instruments so they're very flexible and are available now.



New – Digital Edition for Download!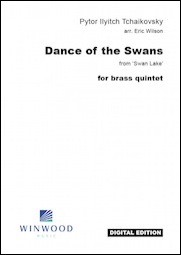 We are delighted to announce our first Digital Edition – available for download now!

Tchaikovsky's ballet 'Swan Lake' has always been popular and this well-known movement makes an ideal encore for brass quintet.


Full score and parts including alternate parts for brass band instruments.


Digital Editions
Winwood Music
is delighted to announce the publication of the brass music of Sir William Walton.


In association with Walton's publisher, Oxford University Press, we are able to make available all of the composer's original music for brass – some are available for the first time!

For further details see the item listing in our
Online Shop
– click on the titles below.

To download a brochure
Click Here
.


Just Published...
The First Shoot
Brass Band

3 B-flat Tpt., 4 F Hn., 3 Tbn., Tuba, Timp., Perc.

E-flat Tpt., 7 B-flat Tpt. (5–7 opt.), 2 Ten. Tbn., 2 B. Tbn. (2 opt.)

9 B-flat Tpt. (5, 7, & 9 opt.), 4 Ten. Tbn. (2 & 4 opt.), 3 B. Tbn. (3 opt.), Timp., Perc.

E-flat Tpt., 6 B-flat Tpt., 3 Ten. Tbn., B. Tbn., Timp., Perc.

3 C or B-flat Tpt., 3 Ten. Tbn., 2 B. Tbn., Perc.

12 B-flat Tpt., Perc.

Introduction to the National Anthem

3 C or B-flat Tpt., 3 Tbn., Perc.

7 C or B-flat Tpt., Perc.

Brochure Download