Joseph Turrin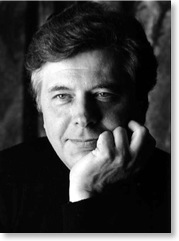 Joseph Turrin studied composition at the Eastman School of Music and the Manhattan School of Music, and has pursued a multifaceted career. As a composer, he has produced works in many genres. Among the many commissioned works in his catalogue highlights include
Hemispheres
commissioned for Kurt Masur's final concert with the New York Philharmonic in May 2002 and taken on tour by Masur and the orchestra to Europe and Asia in June 2002, his concertos for flute (commissioned for Carol Wincence and the New Jersey Symphony) and for trumpet (the latter commissioned by the New York Philharmonic for Philip Smith, its principal trumpet, and conducted at its 1989 premiere by Erich Leinsdorf), the chamber works
Riffs and Fanfares
(The Chamber Music Society of Lincoln Center),
Arcade
(New Jersey Chamber Music Society),
Quadrille
(West Point Military Academy),
Chronicles
(twelve American Universities for Philip Smith),
Modinha
(Orpheus Chamber Orchestra) and numerous other commissions. The New York Philharmonic, both as an ensemble and through several of its individual members, has cultivated a longstanding relationship with Turrin. In addition to the new
Hemispheres
, the
Trumpet Concerto
(which Kurt Masur has also led with the Gewandhaus Orchestra in Leipzig), the Philharmonic-commissioned
Two Gershwin Portraits
(which Mr. Masur and the Orchestra premiered at the "New York 100 Celebration Concert" in Central Park in 1998, with trumpet soloists Wynton Marsalis and Philip Smith), Turrin has composed several pieces for the Orchestra's brass section, including
Jazzalogue No. 1
(featured on the Orchestra's 1997 Latin American tour) and
West Side Story Suite
(commissioned and premiered at Carnegie Hall in 2000 by the Philharmonic's brass section). In addition, he has composed numerous solo and chamber works to spotlight the talents of several Philharmonic musicians. Most recently his Trombone Concerto
Illuminations
was recorded by Joseph Alessi for Summit Records. His
Fandango
was performed on "Live From Lincoln Center" in July, 2002 by Kurt Masur and the NY Philharmonic and hosted by Beverly Sills. His opera
The Scarecrow
was commissioned by a consortium of twelve universities and had its premiere at the University of Texas at Austin. Mr.Turrin was Composer in Residence at the University of Texas in 2006.

Active as a composer, and conductor for film and theatre, Turrin lists among his many credits the scores for Alan Alda's film
A New Life, Little Darlings, Weeds
(with Nick Nolte),
Tough Guys Don't Dance
(Directed by Norman Mailer),
Verna-USO Girl
(with Sissy Spacek and William Hurt and nominated for 3 Emmy Awards),
Nightmare on Elm Street 3, Kingdom of Shadows
(narrated by Rod Steiger),
Broken Blossoms
(1919 silent film classic directed by D.W. Griffith, starring Lillian Gish) and for the restoration of the silent film classic
Sadie Thompson
. Other silent film classics that he has scored include,
Diary of a Lost Girl, Intolerance and The Hunchback of Notre Dame
. His work in musical theater includes performances on Broadway with Michael Feinstein as well as the score for
Frankie
, with a libretto by Broadway legend George Abbott. Other theater works by Turrin include the opera
Feathertop, Love Games and The Barricade
. He also did the orchestrations for the 1992 Olympic Fanfare for the summer Olympic ceremonies in Barcelona, Spain. Several of his films and recording projects have been nominated for Emmy and Grammy Awards.


Turrin has appeared as a conductor with the Pittsburgh, Baltimore, New Orleans, Detroit, and New Jersey Symphony Orchestras; he has performed as a pianist on many recordings and as orchestral pianist for the New Jersey Symphony Orchestra. He has received awards and grants from the United Nations (for contributions in the arts), ASCAP, American Music Center, first prize in the 2004 National Band Association's William Revelli Composition Contest, and Seven Fellowships from the New Jersey State Council on the Arts, in addition to the Ann M. Alburger Award for Chamber Music. In 2006 he was awarded an honorary Masters of Humane Letters from the Eastman school of Music and the University of Rochester. He is on the composition faculty of the Hartt School of Music and Montclair State University.
His works have been performed by the New York Philharmonic, The Academy of St Martin-in-the-Fields, Lincoln Center Chamber Music Society, Baltimore Symphony, Gewandhausorchester (Leipzig, Germany), Orpheus Chamber Orchestra, New Orleans Symphony, New Mexico Symphony, New Jersey Symphony, English Chamber Orchestra, Little Orchestra Society of New York, Wynton Marsalis, Philip Smith, Joseph Alessi, Lew Soloff, Carol Wincenc, Hugh Wolff, Kurt Masur, Erich Leinsdorf, Ramon Vargas, Evelyn Glennie. Susannah McCorkle, US Army Band, US Army Brass Quintet, Atlantic Brass Quintet, New Jersey Chamber Music Society, West Point Military Academy Band, US Marine Band, Eastman Wind Ensemble, University of North Texas Wind Symphony and many others.


For more information see www.josephturrin.com