James Curnow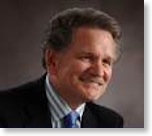 James Curnow was born in Port Huron, Michigan and raised in Royal Oak, Michigan. His formal training was received at Wayne State University (Detroit, Michigan) and at Michigan State University (East Lansing, Michigan), where he was a euphonium student of Leonard Falcone, and a conducting student of Dr. Harry Begian. His studies in composition and arranging were with F. Maxwell Wood, James Gibb, Jere Hutchinson, and Irwin Fischer.
James Curnow has taught in all areas of instrumental music, both in the public schools (five years), and on the college and university level (twenty-six years). He is a member of several professional organizations, including the American Bandmasters Association, College Band Directors National Association, World Association of Symphonic Bands and Wind Ensembles and the American Society of Composers, Authors and Publishers (ASCAP). In 1980 he received the National Band Association's Citation of Excellence. In 1985, while a tenured Associate Professor at the University of Illinois, Champaign-Urbana, Mr. Curnow was honored as an outstanding faculty member. Among his most recent honors are inclusion in Who's Who in America, Who's Who in the South and Southwest, and Composer of the Year (1997) by the Kentucky Music Teachers Association and the National Music Teachers Association. He has received annual ASCAP standard awards since 1979.
As a conductor, composer and clinician, Curnow has traveled throughout the United States, Canada, Australia, Japan and Europe where his music has received wide acclaim. He has won several awards for band compositions including the ASBDA/Volkwein Composition Award in 1977 (
Symphonic Triptych
) and 1979 (
Collage for Band
), the ABA/Ostwald Award in 1980 (
Mutanza)
and 1984 (
Symphonic Variants for Euphonium and Band
), the 1985 Sixth International Competition of Original Compositions for Band (
Australian Variants Suite
), and the 1994 Coup de Vents Composition Competition of Le Havre, France (
Lochinvar
).
Curnow has been commissioned to write over two hundred works for concert band, brass band, orchestra, choir and various vocal and instrumental ensembles. His published works now number well over four hundred. His most recent commissions include the Tokyo Symphony Orchestra (
Symphonic Variants for
Euphonium and Orchestra
), the United States Army Band (Pershing's Own, Washington, D.C.-
Lochinvar
, Symphonic Poem for Winds and Percussion), Roger Behrend and the DEG Music Products, Inc. and Willson Band Instrument Companies (
Concerto for Euphonium and Orchestra
), the
Olympic Fanfare and Theme for the Olympic Flag
(Atlanta Committee for the Olympic Games, 1996), the Kentucky Music Teachers Association/National Music Teachers Association in 1997 (
On Poems of John Keats for String Quartet)
and Michigan State University Bands (John Whitwell, Director of Bands) in honor of David Catron's twenty-six years of service to the University and the University Bands (
Ode And Epinicion
).
For more information see
www.curnowmusicpress.com